Case Study
FiCrowd: A platform donors and non-profits can trust
Greater Muncie Habitat for Humanity was able to grow its donor list and fund building projects more easily with FiCrowd.
For years, Greater Muncie Habitat for Humanity used Facebook's internal fundraising feature to generate money for the annual Women's Build.
While Facebook was effective enough at bringing in the bucks, it failed in many other areas.
So, in 2022, the organization switched to FiCrowd, according to Eileen Oaks Molter, Director of Resource Development.
"FiCrowd is a wonderful tool for peer-to-peer fundraising," Molter said. "It's very user friendly, and for small fundraising teams like our own, it's nice to have FiCrowd as a sort of force multiplier."
The Challenge
The Women's Build is a unique event within Habitat for Humanity because it combines volunteerism with fundraising. The (primarily) women who provide the labor also donate money and raise funds to pay for the build.
In a typical year, 14 crews of 10 volunteers each raise tens of thousands of dollars every September and October to pay for building materials for one home.
"Our Women's Build just keeps getting bigger and bigger," Molter said.
With all that growth, it became apparent that Habitat needed a better fundraising platform.
One of the primary problems with Facebook was that it was too simplistic. The social media platform was incapable of designating that specific gifts were made on behalf of specific crews, making it impossible for Habitat to document donations and properly recognize the donor volunteers who were the most effective fundraisers.
Additionally, it did not require donors to submit contact information, which made it impossible to send branded receipts, place thank you calls, and, most importantly to build new donor relationships.
"There was no way to get in touch with anyone," Molter said.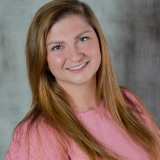 "FiCrowd brought so many new people to our mission. We made so many connections with donors and we can strengthen those relationships. It's all about bringing new people to our mission."
The Solution: FiCrowd
Donors trust FiCrowd
Molter said she has noticed a surge in new donors since Habitat switched to FiCrowd.
Molter credited it to FiCrowd's professional appearance.
"People trust it because of the way it looks," she said. "It's not just a Facebook page."
She also said the FiCrowd is easy for her staff to use and easy to navigate for donors, which also added to the platform's credibility.
FiCrowd powers donor stewardship
Relationship building is absolutely critical for nonprofits like Habitat for Humanity.
FiCrowd helps build relationships because it captures donor contact information and other critical details about their gifts.  This functionality allows Habitat for Humanity to properly document donations and remain in touch with supporters through direct mail, email and phone calls.
FiCrowd allows for Anonymity, an important feature for those donors who do not want the recognition or to be contacted after they donate. The short-term gain comes at a long-term opportunity loss, for the time being anyway, until you build enough trust with that donor so they eventually "let you in."
With FiCrowd, Habitat for Humanity is able to call every single donor and/or send a handwritten thank you letter from a partner family, and more.
The long-term goal is to move new donors toward more engagement – bigger donations, more responsibility, and, potentially, a leadership role in the organization.
"That is super important to us," Molter said. "FiCrowd brought so many new people to our mission. We made so many connections with donors and we can strengthen those relationships. It's all about bringing new people to our mission."
FiCrowd delivers funds faster
Many fundraising platforms batch their disbursements, when they are good and ready to do so, which could be weeks.
FiCrowd, however, delivers funds daily. According to Molter, this makes it much easier for the organization's accountants to reconcile the books.
The fast funding also makes it easier to buy materials.
"When we get the funds, we can go out and utilize them," Molter said. "We don't have to wait. It's nice."
One more thing – service
With, FiCrowd, Habitat for Humanity has been able to build a relationship with company leadership to determine how best to apply the platform to its needs and to address any issues that arise.
This high level of support can be especially critical for small teams that don't have a lot of time or resources to devote to problem solving and need to launch new campaigns quickly.
"Anytime that I've had a question or needed something, I've been able to reach out and get an answer," Molter said.
Free Yourself to Grow
Become more effective fundraisers
Contact us to learn more about how you can raise funds and grow your supporter relationships simultaneously with FiCrowd.